Hikvision launches the SMART DS-2CD4165F-IZ 6MP indoor IP dome camera
Bhavesh Kumar
Product in a few words: These six-megapixel Ultra HD cameras offer a total resolution of 3072 x 2048 at full frame rate.
Sectors / verticals: Ideal for applications requiring very detailed monitoring – capturing license plates, clothing and faces and monitoring cash management.
Characteristics:
High resolution: The 6-megapixel Ultra HD camera installed in the new line has a total resolution of 3072 x 2048 at full frame rate, giving it a field of view well ahead of conventional cameras.
SMART technology: To help its users get the most out of the superior optics of this camera, it is also integrated with Hikvision's SMART technology which includes SMART Codec, SMART Focus, SMART IR, SMART facial recognition, SMART line crossing detection, SMART voice recognition and SMART license plate. acknowledgement.
Night watch: The IR range of the cameras that are part of this range varies from 50 meters to 150 meters providing a variety of choices depending on the night surveillance needs.
Anti-vandalism: As it is not always possible to protect installed cameras, the (DS-2CD4665F-IZ (S) (H)) range also has a vandal-resistant bullet camera ensuring you complete surveillance in extreme conditions.
355 ° rotation: The SMART IP DS-2CD4165F-IZ indoor dome camera is capable of 355 ° rotation and is equipped with SMART Defog technology.
Designed for the outdoor environment: The SMART DS-2CD4565F-IZ (H) IP Outdoor Dome Camera is designed to perform exceptionally well in harsh weather conditions.
Compatibility: 6MP IP cameras offer a complete smart solution when combined with Hikvision's Smart NVR and comprehensive video management software.
The manufacturer says: "As the global video surveillance market continues to shift to HD as a de facto standard, Hikvision is leading the way for an HD + future with the 6MP SMART IP family," said Keen Yao, director of international marketing at Hikvision. "Their enhanced imaging capabilities demonstrate the edge that our investment in R&D is bringing to customers around the world. "
About the manufacturer: Hikvision is the world's largest supplier of video surveillance products and solutions. The company specializes in innovative video surveillance technology, as well as the design and manufacture of a complete line of innovative video surveillance and video surveillance products. Hikvision has the world's largest R&D team and state-of-the-art manufacturing facilities.
Follow the wireless access control market
Download this free report to learn more about:
The current state of wireless access control solutions on the market
The growing trend towards "moving to mobile access control"
Perspectives on Open Architecture and Integration
Growing use of the cloud and ACaaS to manage access systems
How important is sustainability to the industry?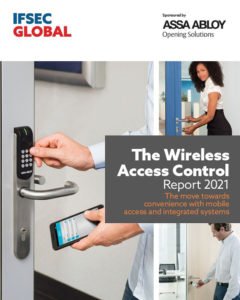 Related topics